Eric Crozier and His Composers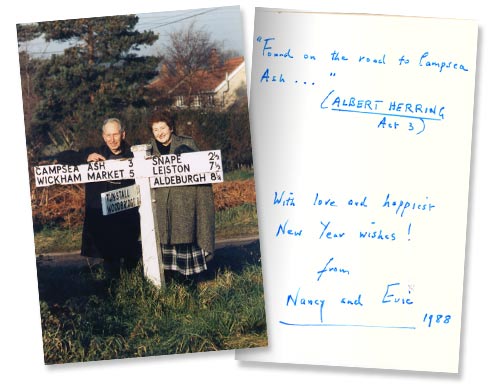 Have you been a correspondent or know of any writings of the twentieth century British librettist, producer, BBC personality Eric Crozier? A superlative writer and generous friend, Eric's letters were always fascinating, whether written to Benjamin Britten, Peter Pears, E.M. Forster, Nancy Evans, or one of the budding singers at the Britten Pears school.

I would like to amass as much of Eric's correspondence, works, and your stories, as possible, so he is not forgotten. (Perhaps a volume.)

Please provide whatever information you feel comfortable providing. If you know the location of materials, please cite specific data.Are there people who should be interviewed? Would you like to be interviewed? Please email me: C.L.Hansen@hansenPartnership.com.

Thank you.
Christine Hansen covered the Aldeburgh Festival for WCAL Radio (National Public Radio) from 1986 through 1990, where she amassed hundreds of hours of interviews with artists, towns people, and audience members.She met Eric and Nancy Evans at a reception given at the University of Missouri-Columbia in 1980, by invitation of Professor Mary Lago. They both recall their first discussion being as to whom was poorer living in Paris: he on a British grant of 200 pounds sterling in the '20s, or Hansen on 2000 US dollars in 1975. They were fast friends ever since.